How to Pass the OLSAT Test in 2022
All products and services featured are independently selected by WikiJob. When you make a purchase through links on this page, we may earn a commission.
What Is the OLSAT Test?
The Otis Lennon School Ability Test (OLSAT) is administered by Pearson and is a multiple-choice aptitude test that is aimed at children in grades kindergarten to 12.
The test looks at a students' aptitude and intelligence in regard to reasoning ability, logical thinking and abstract thinking.
The test was created to measure intelligence, using speed of thought and reasoning skills as measuring tools.
The test is often used by schools and educational institutions to identify children who may be suited for gifted programs. It also allows them to identify those students in need of additional support.
The OLSAT consists of several levels to correspond to children's ages and grades.
What Is on the OLSAT Test?
There are a total of 21 possible questions that can appear on the OLSAT test. There are two main categories (verbal and non-verbal) with seven larger subsections.
The number of questions range from 40 to 72, depending on the level of the test, with test times ranging from 60 minutes to 77 minutes.
The OLSAT question types fall into five categories, with several sub-categories in each.
Verbal
This section assesses both verbal comprehension and verbal reasoning. Not all sub-sections appear in all test levels:
Verbal Comprehension – Following Directions (levels A to C); Antonyms (levels D to G), Sentence Completion (levels D to G); Sentence Arrangement (levels D to G).
Verbal Reasoning – Aural Reasoning (levels A to C); Arithmetic Reasoning (levels A to C); Logical Selection (levels D to G); Word/Letter Matrix (levels D to G); Verbal Analogies (levels D to G), Verbal Classification; Inference (levels E to G).
Non-verbal
The non-verbal section looks at pictorial reasoning, figural reasoning and quantitative reasoning. Not all sub-sections appear in all test levels:
Pictorial Reasoning – Picture Classification (levels A to C); Picture Analogies (levels A to C); Picture Series (level A).
Figural Reasoning – Figural Classification (levels A to D); Figural Analogies (levels A to D), Pattern Matrix (levels A to D); Figural Series (levels A to G).
Quantitative Reasoning – Number Series (levels D to G); Numeric Inference (levels D to G); Number Matrix (levels D to G).
What Levels of OLSAT Are There?
There are seven different OLSAT levels that can be taken. The level your child takes depends on their age and grade.
These are the following levels and how many questions there are per test:
Pre-K and kindergarten – OLSAT level A; 40 Questions
Grade 1 – OLSAT level B; 60 Questions
Grade 2 – OLSAT level C; 60 Questions
Grade 3 – OLSAT level D; 64 Questions
Grade 4 and 5 – OLSAT level E; 72 Questions
Grade 6 to 8 – OLSAT level F; 72 Questions
Grade 9 to 12 – OLSAT level G; 72 Questions
Children who take OLSAT levels A, B, and C have the questions read aloud to them and are also given the tests in a one-on-one setting.
The OLSAT level A does not assess reading and math, but rather assesses areas that are not universally taught.
OLSAT levels D and higher are taken in a group setting.
Example Questions
Below are some sample questions to give you an idea of what may be found on the OLSAT Test
1. Which letters do not match the others?
a) AbC
b) BBB
c) CCC
d) FFF
2. Each cupcake for the school fair needs to have three cherries on top. Select the image that has three cherries.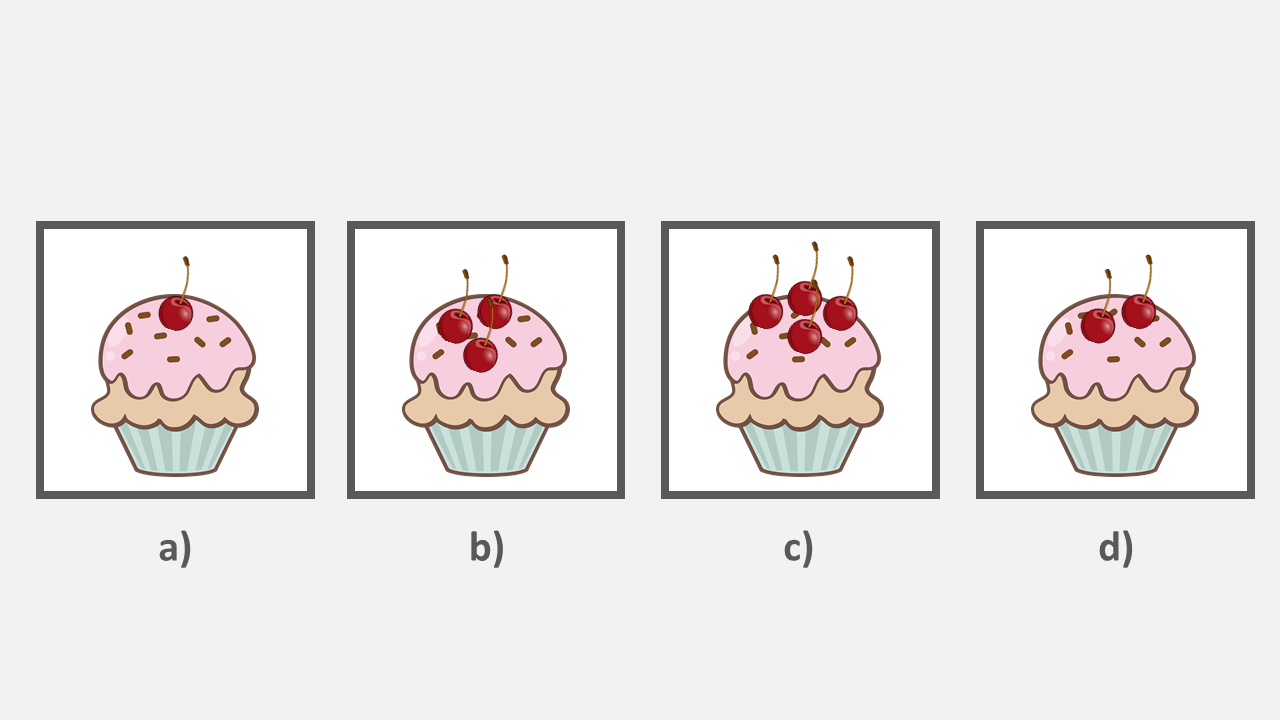 3. Please select the image of the circle with a capital letter inside.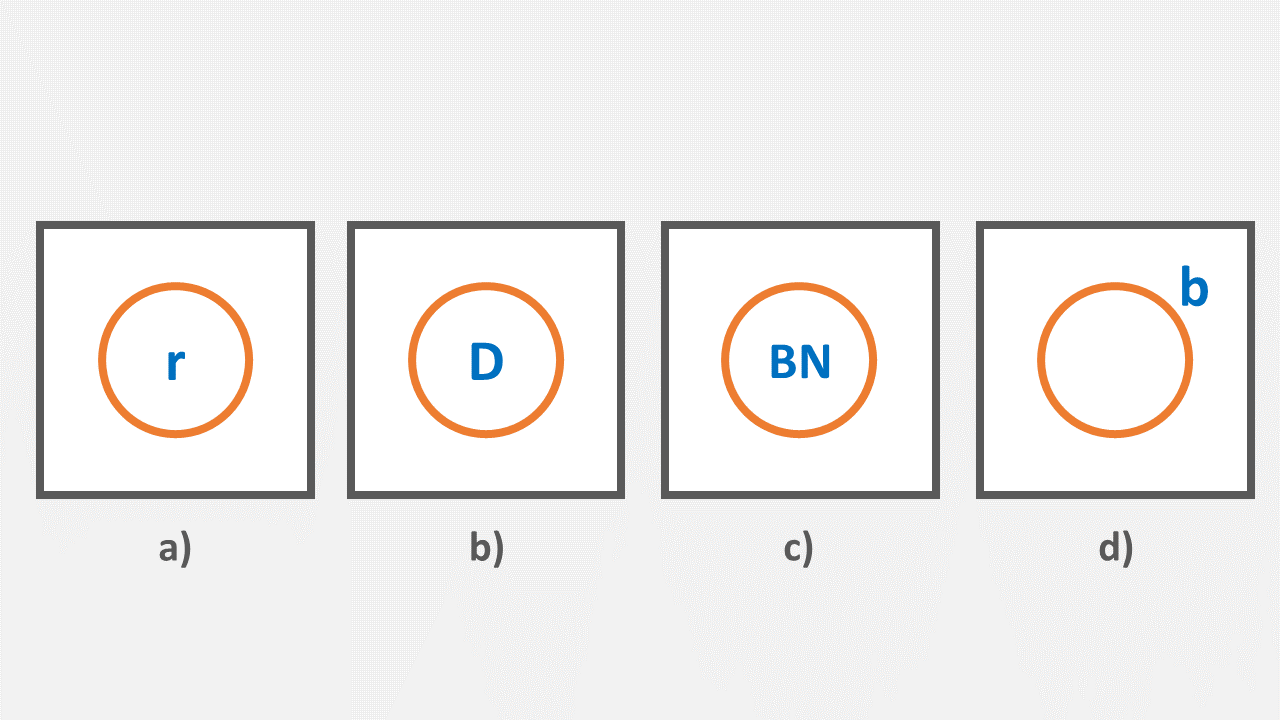 1. The opposite of calm is:
a) Sad
b) Nervous
c) Upset
d) Happy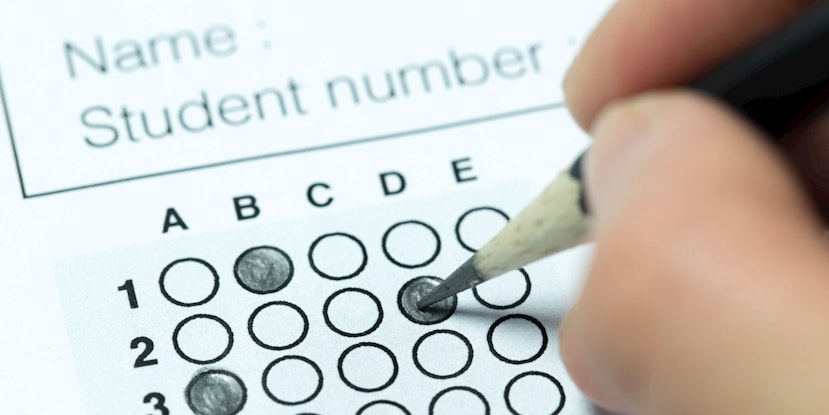 How to Pass the OLSAT Test
2. Choose the word that doesn't belong:
a) Happy
b) Angry
c) Dizzy
d) Worried
3. Choose the correct word to complete the sentence:
Abigail didn't like it when it snowed. It was too cold. She also _________ it when it rained.
a) Liked
b) Disliked
c) Cheered
d) Worried
1. sledding, love, go, children, to, snow, in
If the words are put in the proper order, what is the first word of the sentence?
a) Love
b) Children
c) Snow
d) Sledding
2. Choose the number that should come next in the pattern:
4, 8, 6, 12, 10, 20, 18…
a) 36
b) 22
c) 30
d) 32
How Is the OLSAT Scored?
The OLSAT is scored using a total age-based percentile score to measure test performance.
This is calculated by totalling the number of questions answered correctly and weighing that score against students of the same age.
Scores will only be weighed against those who are exactly the same age. If a child is four months younger than another student, their score will be weighted against someone who is the exact same age.
There are three resulting scores your child can receive:
The Raw Score – The total number of questions that are answered correctly. For example, 75 or 80. There will be raw scores for the verbal and nonverbal sections, as well as a total raw score.

The School Ability Index (SAI) – This is calculated by comparing scores of children in the same age group. The maximum score is 150 and the average is 100, with a standard deviation of 16.

The Percentile Rank – This is calculated by comparing your child to other students in the same group. If your child ranked in the 75th percentile, then they scored as well or higher than 75% of other children in the same age group.
A score of 132 or over is considered to be the top 2% of the population. Approximately 14% score between 116 and 132, with 64% achieving a score between 84 and 116.
Tips for Passing the OLSAT Test in 2022
Test-taking tips are always welcome, and the following tips should help your child prepare for the OLSAT.
Listen Carefully/Read Questions Twice
Listening carefully to questions is very important for younger children who will have the questions read to them.
For older children who will read their own questions, careful reading is equally important.
Practice reading and listening carefully with your child, so they understand how to do so effectively.
Maintain a Steady Pace
It's important to teach your child to move through the test at a steady pace and not to spend too much or too little time on any one section.
You don't want them to spend too long on a difficult section, nor shy away from it either and lose possible marks.
Look After Their Wellbeing
Making sure your child has enough to eat on the day of the test and gets a good night's sleep the night before can help them stay alert and focused.
Practice Tests
Making use of practice tests can give your child a sense of what to expect, as well as identify areas of strength and weakness.
Process of Elimination
Teach your child how to read or listen to a question and quickly eliminate the answers that obviously do not apply. Then, they can hopefully determine the correct answer with what is left.
Frequently Asked Questions
Because the OLSAT is used for entrance into gifted programs, it can be a difficult test to take.
If they do not know an answer, then they should definitely guess.
There is no penalty for a wrong answer, but their raw score is a total of the correct answers. There is always a good chance that they may guess the correct answer.
The OLSAT is given throughout the United States in many major cities. It is most often used in California and New York City, although many other places offer the test.
Yes, your child's scores will be measured against children of the same age. If the other children are several months older, your child will only be measured by children who were born around the same month.
A score of 132 is considered to be an excellent score, with only 2% of students achieving that score.
Fourteen percent score between 116 and 132, with 64% achieving a score between 84 and 116.
Final Thoughts
The OLSAT can be a feared test and is rumored to be difficult, with even adults having trouble.
This could lead to a lot of anxiety and worry from your child as the test approaches.
Understanding the test, how it is taken and what is on it can go a long way towards easing some anxiety. It's also beneficial to help your child understand the questions fully, work through some practice tests and ensure they are fully prepared both mentally and physically.
The OLSAT can be difficult, but with the right preparation, your child can make it through.
---