How to Pass the CAT4 in 2022
All products and services featured are independently selected by WikiJob. When you make a purchase through links on this page, we may earn a commission.
The CAT4 test is different from other tests used to predict a pupil's mathematical, spatial reasoning, verbal and non-verbal reasoning skills. Many schools and colleges use it across the UK and Ireland because it is designed to help both students and teachers.
By inviting students to take a CAT4 test, teachers can precisely understand how each pupil learns and their academic potential.
Students gain a deeper understanding of their strengths and weaknesses across all four areas covered by the CAT4 exam.
What Is the CAT4 Test?
Created by GL Assessment, CAT4 is a type of cognitive ability test based on years of research and development.
The current version took five years to develop, using data analysis from over 25,000 UK students.
Its purpose is to assess a student's spatial awareness, verbal and non-verbal comprehension and mathematical abilities against pupils in the same academic year.
It provides a detailed summary of a child's academic potential and is far more thorough than the usual curriculum tests.
More than 50% of UK secondary schools ask existing and prospective students to take the CAT4 exam so that teachers know exactly where to target support.
Primarily, the CAT4 is not dissimilar to the world-renowned IQ tests also used to provide an intellectual baseline.
Every new intake of children has different learning needs. The CAT4 gives teachers a good indication of the strengths and weaknesses of a particular year group. It enables more accurate class allocation so that pupils who need extra help or relish more of a challenge have a better chance of receiving it.
The CAT4 exam also assists teachers with choosing suitable course material and exercises.
For example, knowing whether students learn better with diagrams and pictures or words and audio can significantly impact academic performance. Armed with a deeper understanding, students can be grouped with those who learn in a similar way.
How Is the CAT4 Structured?
The CAT4 test tends to be used mostly on secondary school pupils. However, it can be used to assess children as young as six and as old as 17 years of age.
CAT4 tests are divided into levels that correspond to certain school years:
Level X (age 6 to 7), Year 2
Level Y (age 7 to 8), Year 3
Level A (age 8 to 9), Year 4
Level B (age 9 to 10), Year 5
Level C (age 10 to 11), Year 6
Level D (age 11 to 12), Year 7
Level E (age 12 to 13), Year 8
Level F (age 13 to 15), Year 9 and 10
Level G (age 15 to 17+), Year 11+
Although the CAT4 test is not used by primary schools as frequently as in secondary schools (mainly because children's minds are rapidly developing at that age), it is still a reliable indicator of how well children are responding to learning methods and resources.
For example, many younger students will sit the CAT4 exam at Key Stage 3, just before moving up to secondary school. This is to give their new school a good idea of their strengths and weaknesses from the very start.
Knowing this information helps teachers target their support to make the transition process easier for children.
After all, it can be a big step to enter Year 7 for the first time.
As children develop into young people and become more familiar with routine assessment, CAT4 testing is used to help students decide what:
GCSEs or A-Levels to take
Universities or apprenticeships to apply for
Career path best matches their skills and abilities
So, the CAT4 is as useful for students and parents as it is for schools.
Each CAT4 test assesses pupils across four learning batteries:
Verbal
Non-verbal
Spatial ability
Although the difficulty of the questions will be age-appropriate, the question types are the same across all 10 levels.
As with any CAT4 practice test, there are three parts to the CAT4 exam:
Part One – 20 minutes; includes 24 questions relating to figure classification and figure matrices
Part Two – 26 minutes; broken down into three elements: number analogies, verbal classification and verbal analogies
Part Three – 26 minutes; 18 number sequence questions in eight minutes, 18 figure analysis questions in nine minutes and 18 figure recognition questions in nine minutes
It sounds tough, but CAT4 exam questions are designed with the child's age, academic ability and the national curriculum in mind. As the levels go up, the difficulty increases to reflect the age of the child.
What Types of Questions Are in the CAT4 Test?
To give you a clearer understanding of what is expected within the assessment, it's helpful to know what each CAT4 exam part is designed to test.
Part One Explained
Part One assesses figure classification and figure matrices, both of which are types of non-verbal reasoning tests.
Figure Classification (Non-Verbal Reasoning)
Most of us would have taken a figure recognition test, whether at school or for a job aptitude test.
In the CAT4 exam, pupils are given three shapes to look at. They are asked to identify what the shapes have in common and choose the correct answer based on this information.
Example question: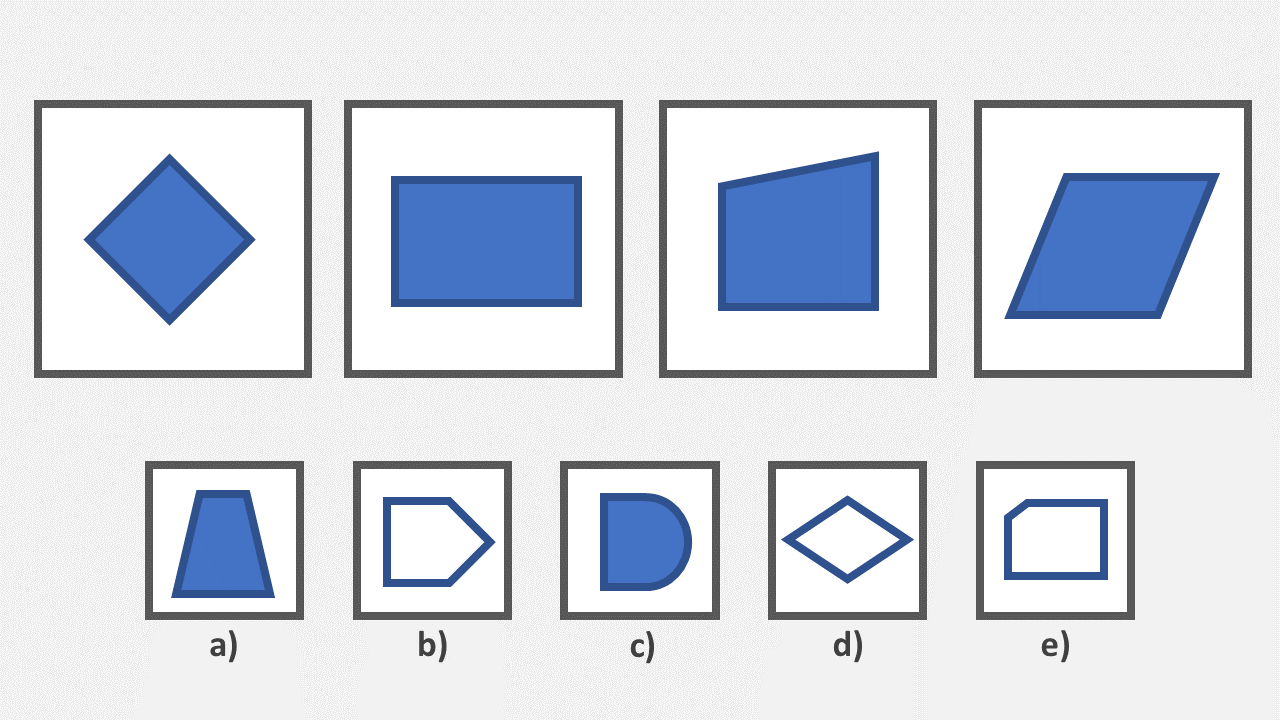 Figure Classification CAT4: Choose the similar shape
Example Question
Select the correct answer from a) to e) to identify the most similar shape to the first three figures.
Figure Matrices (Non-Verbal Reasoning)
As with figure classification, you would have taken a figure matrices test at some point in your academic life or career.
Also a form of non-verbal reasoning, these questions may ask children to think about how a shape has changed and apply the same rule or logic to select the missing shape.
Example question: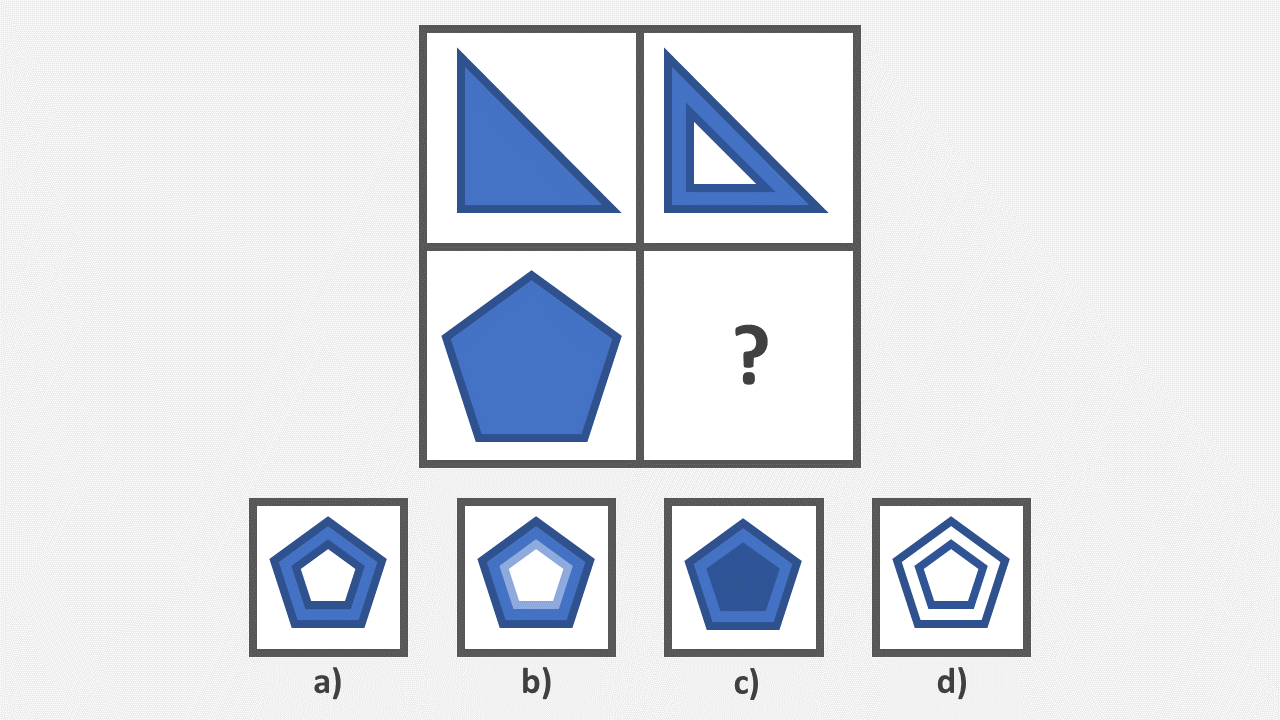 Figure Matrices CAT4: Which shape follows the same pattern as the ones above?
Example Question
Look at how the first shape has changed, then use the same rule to pick the correct missing shape.
Part Two Explained
The second part is split into three sections:
Number analogies
Verbal classification
Verbal analogies
Number Analogies
Also referred to as 'quantitative reasoning', the number analogies part of the CAT4 is designed to assess a child's ability to identify the similarities and patterns between numbers.
Student will be asked to look at pairs of numbers and identify how they are similar or linked in some way.
Example question:
Example Question
Look at the first two pairs and complete the third pair by selecting the correct number from one of five possible answers.
4 – 8 | 8 – 16 | 16 – ?
a) 24
b) 30
c) 10
d) 32
e) 18
Verbal Classification
Verbal classification is a common type of verbal reasoning test used in the CAT4 test to assess a pupil's ability to identify and classify patterns found in words.
In this part of the CAT4 practice test, the child is presented with three words that are similar in some way. They must then choose, from five possible answers, the answer that also shares this similarity.
Example question:
Example Question
Dog, Goat, Horse, ?
a) Fish
b) Kangaroo
c) Giraffe
d) Snake
e) Penguin
Verbal Analogies
As with verbal classification, the verbal analogies part of the CAT4 tests a child's verbal reasoning.
Students must identify how pairs of words relate to one another. Once they have worked out how the first two relate, they must select the missing word from the other pair.
Example question:
Example Question
Dark – Light : Cold – ?
a) Snow
b) Dry
c) Hot
d) Sunny
e) Rain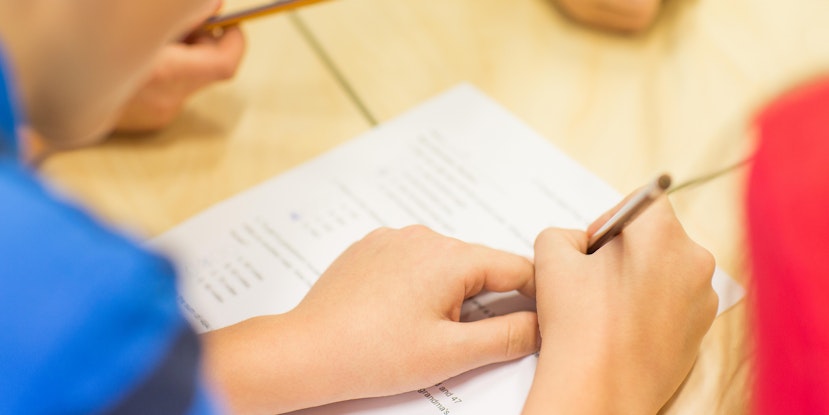 How to Pass the CAT4
Part Three Explained
Part Three of the CAT4 test is organized into three sets of 18 questions on:
Number sequences
Figure analysis
Figure recognition
This part of the CAT4 exam is designed to test a child's spatial awareness, that is, their ability to solve three-dimensional problems by using their mind to visually turn or manipulate an image to work out the next image in a sequence.
Figure Analysis
This aspect of the CAT4 tests the student's ability to mentally think about shapes and their symmetry.
A typical question below shows a piece of paper that has been folded in half with a hole punched in it.
The student must then decide, from the possible drawings, what the piece of paper will look like once unfolded.
Example question: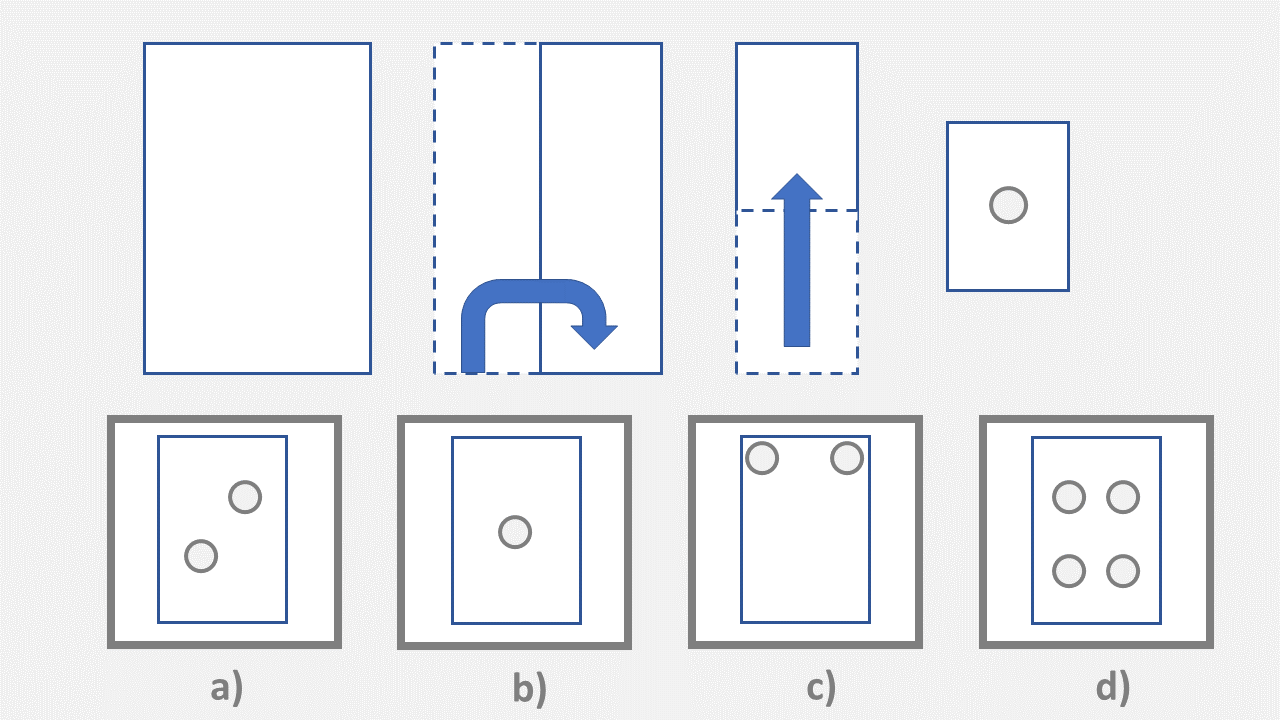 Figure Analysis CAT4: Which is the paper unfolded?
Example Question
Which piece of paper shows what the paper will look like when unfolded?
Figure Recognition CAT4: Where is the shape hidden in the answer options?
Example Question
Which design contains the hidden target shape?
CAT4 Levels
From the example CAT4 test questions above, you'll notice that some are for a younger age group and others are for older children.
This is because the difficulty of the questions changes depending on the level of the CAT4 test, with Level X being the easiest (age 6 to 7) and Level G being the hardest (typically age 15 to 17+).
Most commonly, though, Levels Y and A are used to assess children as they move up a Key Stage in primary school.
Levels B and C are used to help children prepare for secondary school, while Levels D and E give secondary schools a good steer on how to target support once pupils have started with them.
The upper levels, F and G, are for schools to guide their students on making key education choices such as choosing GCSEs and A-Levels.
How to Pass the 2022 CAT4
During the COVID-19 pandemic, students have been through a lot of upheaval with their education. Your child may be a little nervous about taking the CAT4 test.
How can you help them to stay calm and do their best? Here are a few tips to pass on.
Don't Worry
Students must understand what the test is for. It's not a traditional exam and does not require revision as such, although your child may wish to practice.
The CAT4 is there purely to help reveal their strengths and weaknesses so that they can access the right academic support to reach their potential.
Having a good understanding of this will make the test seem far less daunting.
Ready the Mind
There are lots of CAT4 test sample questions online for free, so do check out the leading providers in this area.
Revisit Problem Areas
Everyone has some areas that are weaker than others.
Once your child has answered some practice questions, it'll become clear where they struggle. Focus their practice on those questions.
Avoid Getting Stuck
Since the CAT4 exam is timed, it's good to get your child into the right rhythm by completing a CAT4 practice test at speed.
Have a Guess
If your child does not know the answer to a question when taking the real exam, they should be encouraged to guess the answer rather than wasting too much time.
Make Study Fun
You can prepare your child for a CAT4 exam by playing word games and number puzzles.
There are also plenty of gamified study tools designed to enhance a child's verbal, non-verbal reasoning skills, numerical abilities and spatial awareness.
Read the Question Twice
On the day of the CAT4, it's a good idea to encourage your child to read the question again quickly or, if they're unsure, ask the teacher to repeat it if it's being read out.
Bring More Than One Pencil
If your child is taking a paper-based CAT4 test, make sure they have more than one pencil and that they are sharp.
Frequently Asked Questions
Each student will be given a score of up to 130 (the total number of questions asked). The scores are then put into three normative scores to provide an accurate and relative overall performance.
The three normative scores are:
Standard Age Scoring (SaS)
Each student is scored within the context of the standard age for that battery.
If students from other age groups got a similar number of questions correct, they would be considered to have done as well as others in their year group.
Likewise, if they performed better than the standard test result, say, for example, achieving the same high score across two test batteries, they would have done better and therefore have a higher SaS.
National Percentile Rank (NPR)
This score looks at the overall percentage of pupils that scored lower or higher than the test taker.
So, if a child received an NPR of 59%, they scored either the same or better than 59% of people who took the test in their age group. It also means that 41% scored higher.
Stanines (ST)
There are nine different levels to this part of the scoring, which is based on a combination of the scores above. The idea is to give teachers a sliding scale of where each pupil sits in each of the CAT4 test battery areas.
A score of 127 or over is very high, 112 to 126 is above average, 89 to 111 is average, and 88 or under is below average.
It is important to remember, though, that a student may be weak in one or two areas but particularly good in another.
A CAT4 test takes 74 minutes to complete and is split into three parts. Part One, which tests a student's figure classification and figure matrices ability, is 20 minutes long (with 10 minutes for each question type).
Part Two takes 26 minutes and is split into three elements: verbal analogies and verbal classification (eight minutes each), and number analogies that takes 10 minutes.
The last part of the CAT4 exam also takes 26 minutes, and there are two sets of 18 questions that must be answered within 16 minutes and 18 figure analysis questions that must be completed within nine minutes.
Most CAT4 tests are not taken in one sitting, as a single session can tire students out and distort the results.
Although there are similarities between an IQ test and the CAT4 test, the CAT4 exam is not promoted as being an IQ test.
The two tests are similar in that they give a baseline of a person's strengths and weaknesses, but CAT4 has been built specifically for children and young people and with academic potential in mind.
Unlike a generic IQ test, CAT4 is created and delivered solely by GL-Assessment and can only be accessed by teachers and other education staff.
Yes, all questions within the CAT4 test are multiple choice. The student is presented with a verbal, non-verbal, numeric or spatial awareness problem.
Next, they are asked to select the correct answer from a list of four or five answers.
All questions are written in age-appropriate language so that the child understands the problem being posed.
Diagrams are also clear, and there is an opportunity for children to revisit their answers (if they have time).
Students take the CAT4 exam in a controlled environment, and they can either do this on paper or digitally.
In both cases, it is recommended that each part should be delivered separately (not in one sitting) and last no longer than 45 minutes each. This time includes the exam itself as well as administration, instructions and practice questions.
When sitting a paper-based CAT4 exam, students have a booklet containing all the questions and an answer sheet where they must mark their answers. Students are supplied with an HB pencil and an eraser in case they need to change their answers. Pens cannot be used.
If completing the CAT4 digitally, students will do this on a computer screen at school. Once the teacher has pressed the Start Test button within the CAT4 software, students can log in to the Test Lobby to take their test.
While students are taking the CAT4 on a computer, teachers are encouraged to walk around the room to ensure that pupils are not experiencing any difficulties and are not rushing through the test without answering each question.
Using the software, teachers can see the pace at which students completed the test when they have finished.
Final Thoughts
The CAT4 test is a great way for teachers to gain an unbiased view of a child's cognitive learning ability and academic potential.
Armed with this knowledge, the school is better equipped to help students who may struggle in some areas. It also allows teachers to identify pupils with a particular gift in a certain area and can give them further opportunities to develop.
Rather than being seen as yet another exam, the CAT4 should be viewed as an opportunity for children and young people to better understand their learning styles.
---