How to Pass the Amazon Maintenance Technician Test in 2023
All products and services featured are independently selected by WikiJob. When you make a purchase through links on this page, we may earn a commission.
What Is the Amazon Maintenance Technician Test?
The Amazon Maintenance Technician Test is part of the recruitment process for a position as a maintenance technician, also called a Reliability, Maintenance and Engineering (RME) technician.
It is one of the earlier stages of the recruitment process for technical roles, usually taken by candidates after the initial application and a phone screening.
The Ramsay Corporation, which specializes in employment assessments and HR consulting services for industrial, processing and distribution businesses, created this test specifically for Amazon.
Therefore, this test is based on similar principles to the Ramsay Mechanical Aptitude Test, which is one of the most popular tests used for engineering and technical positions in a number of industries.
What Does the Amazon Maintenance Technician Test Assess?
This test is designed to assess a candidate's suitability for a role as a maintenance or RME technician.
Part of the role is keeping Amazon's machinery functioning to a high standard, ensuring safety practices are maintained and performing preventative maintenance when needed.
The test assesses mechanical comprehension and understanding of physics principles, which demonstrate the necessary competencies to perform an Amazon technician's daily tasks.
Amazon technicians have a huge responsibility in the business, so the screening process needs to be thorough and rigorous.
What Is on the Amazon Maintenance Technician Test?
The Amazon Maintenance Technician Test is given at one of three different levels, depending on the role that has been applied for:
Amazon Tech 1 – This is an entry-level test, based on journey-level knowledge of the sort gained after completing an apprenticeship.
Amazon Tech 2 – Above journeyman level, this is the intermediate test usually used for junior positions.
Amazon Tech 3 – This is an advanced test used for more senior positions.
Amazon Tech 2 and 3 are the most common.
The Amazon Maintenance Technician Test consists of 75 questions to be answered in two-and-a-half hours.
Although the question content is not published, each assessment has a similar structure and question types that candidates will face.
As the most often used tests, the details below for the Amazon Tech 2 and 3 are going to be the most useful for revision purposes.
For best results, focus on these areas for revision purposes and, additionally, always keep in mind the principles of energy, forces and motion, plus knowledge of electrical circuits.
Amazon Maintenance Technician Test Sections
Each subsection here will describe what type of questions can be expected and how many there will be for Tech 2 and Tech 3.
Print Reading
This section contains questions covering:
Drawings and prints
Materials
Equivalent measurements
Dimensioning, including length
Electrical schematic drawings
For Tech 2, there are 10 questions on this subject.
For Tech 3, there are nine questions, based on the same content.
Power Transmissions and Preventative Maintenance
This section is based around power transmissions and preventative maintenance and candidates will be asked to:
Look for signs of wear and tear
Assess damage through fault finding
Describe the process for working with power inputs.
There are 18 questions in the Tech 2 level.
In the Tech 3 test, there are 17 questions here.
Materials, Tools and Equipment
This is the shortest section on the assessment and is based on:
Identifying tools
Choosing the right materials
Using equipment safely and correctly.
The Tech 2 level has only five questions.
The Tech 3 level has four.
Pneumatics and Hydraulics
This section looks at the principles of gas and water under pressure, as well as requiring candidates to correctly read dials and monitors.
There are eight questions in this section for Tech 2.
Tech 3 has seven questions for this section.
Electrical Theory and Control Circuits
As there is so much electrical knowledge needed for technician positions, this is the biggest part of the assessment.
There will be a total of 22 questions for Tech 2.
At Tech 3, there will be 20 questions here.
The questions will be on subjects such as:
Identifying essential parts of circuits
Building circuits
Fault finding
Physics principles, such as Ohm's Law and Watt's Law
Testing Instruments
Testing instruments are important tools, and choosing the right ones is an important skill for an Amazon technician to have.
This section also tests the essential ability to understand screens and readouts.
Therefore, there are 12 questions in total for this section at Tech 2 level.
There are seven questions at Tech 3 level.
Tech 3 Level Only: Programmable Logic Controllers (PLC)
There are fewer questions in other sections of the Amazon Tech 3 level exam, compared to the Amazon Tech 2 level; this is because Tech 3 has an additional unique section.
It has seven questions about PLC, including programming, fault finding, maintenance, controlling processes and testing reliability.
What Do You Need for the Test?
The test is scheduled through an email from Amazon but is administered through a third-party company – ADIA.
You can schedule the test for whenever is convenient for you.
There will be a human supervisor from ADIA monitoring both you and your screen throughout the test.
To complete the assessment, you will need a computer, as the test will not work on mobile devices.
As you are being monitored throughout the assessment, you will need to have a web camera installed.
To effectively complete what you need to do, you will need to use a microphone and speakers, although headphones are preferable.
The test interface will include a non-scientific calculator for you to use if you need it, and you can bring scratch paper and a pen so you can make notes if you need to.
Preparing for the Amazon Maintenance Technician Test
Practice Tests and Preparation Packs
This might seem like a strange way to start your revision process, but if you take a practice test you can find out where your strengths lie and what any areas of your knowledge need bolstering.
It is perfectly normal for even the strongest technical minds to have weaknesses, and through your results in a practice paper, you will know where to focus your efforts to improve.
There are different free practice papers available online.
Additionally, usually for a small cost, you can work through preparation packs that are designed to help you revise and prepare.
Create a Study Plan
The results of your practice tests can help you create a study plan.
It is important to be realistic about how long you will need and the amount of time that you have available for studying.
Start studying as early as you can so that you are not cramming.
Sticking to your plan will give your study structure and ensure that you cover all the areas that you need to.
Improve Your Weaker Areas First
Everyone has weak areas; it is important to focus on these first.
Although it is gratifying to reassure yourself that you know all you can about a certain subject, you do not want to miss marks in the test because you did not complete the right revision.
Revise the Basics
Revise the foundations of your technical knowledge, like basic mechanical and physics principles.
Almost every question in the Amazon Maintenance Technician Test is based on these fundamental principles of physics, math and mechanics.
Spending time ensuring that you know what these are, how they affect the mechanics and the maintenance of equipment and how you can use them to solve problems is the key to answering the test questions correctly.
These principles include:
Basic math and equations
Newton's Laws
Ohm's Law
Watt's Law
Circuits
And more.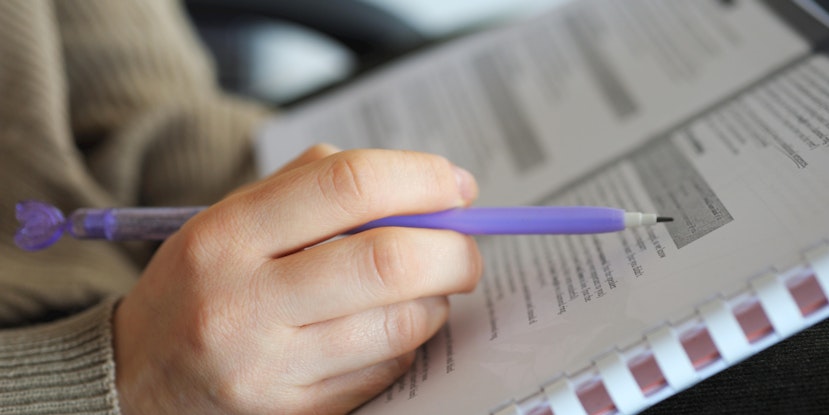 How to Pass the Amazon Maintenance Technician Test/Amazon Ramsay Test
Pay the Most Attention to the Larger Sections of the Test
Consider the structure of both the Level 2 and Level 3 tests: certain areas have significantly more questions than others, making these more valuable in terms of your final score.
These sections are the ones most relevant to the Amazon maintenance technician role, so once you have covered the fundamentals, make sure that you focus on these areas.
They are:
Power transmission and preventative maintenance
Electrical theory and control circuits
Test instruments
The Importance of Troubleshooting
At the heart of a maintenance role is finding and solving problems.
Therefore, during revising and taking the test, you should consider each question as a work-related problem to solve.
This will help you practice implementing your knowledge in a practical setting.
Amazon technicians are meant to prevent problems and solve them if they occur – so fault-finding and troubleshooting are the most important considerations to make when approaching the test questions.
Having a problem-solving frame of mind is what is needed in the role, so you should use that to help you get the job in the first place.
On the Test Day
Preparation
On the night before the assessment, make sure that you get enough sleep.
Once you are well-rested, make sure you eat a healthy breakfast and drink plenty of water.
Fueling yourself healthily is proven to help cognitive function and will help you perform at your best.
Get Your Space Ready
The test is two-and-a-half hours long, so you need to make sure that everything you need is in place.
You need to be somewhere that is quiet and where you will not be disturbed.
You also need to ensure that you have a good, fast and reliable internet connection, so it is best to check that before you get started.
Remember that you are allowed scrap paper and a pen to make notes, so get that ready too.
Check Connections and Computers
Your computer and hardware are an integral part of this assessment – you need to be sure that they are all working before you start.
This includes the webcam and speakers, so check your wired and wireless connections first.
Also, make sure your computer will not update during the test – consider scheduling such things for after the test is finished.
Frequently Asked Questions
Yes.
Amazon really relies on its maintenance technicians to keep everything working – and this means that the recruitment process is designed to find the most qualified and knowledgeable candidates.
Therefore, the test is designed to be difficult so that unqualified candidates do not make the cut.
The topics covered by the Amazon Maintenance Technician Test include:
Print reading
Power, transmission and preventative maintenance
Materials, tools and equipment
Pneumatics and hydraulics
Electrical theory and control circuits
Test instruments
Electronics and PLC
The Amazon Tech Test 2 and 3 assessments are both two-and-a-half hours long, each with 75 questions.
Yes.
It is possible to retake the Amazon maintenance technician test, but you need to wait at least six months before you become eligible for a retake.
This gives you plenty of time to revise and shore up your knowledge, as well as give you more experience.
The Amazon Maintenance Technician Test is scored in two stages.
The first stage compares your overall score to the benchmark set by those already in the role. This simply segregates candidates into two categories – qualified and unqualified.
If at this stage you are considered unqualified, you will be removed from the candidate pool.
The second stage compares your score to the other test-takers in your cohort.
Each role at Amazon has a percentile score that is used to choose the best-performing test-takers.
For example, this might be those who are in the 30th percentile, for example. This means that those who have scored in the bottom 70th percentile will not be taken further in the recruitment process.
To ensure that you give yourself the best chance to be hired, you need to do more than just be considered qualified for the role – you will need to outperform all the other test-takers so you land in the top percentile.
Final Thoughts
The Amazon Maintenance Technician Test is designed to be a tough assessment to pass, because Amazon expects a lot from the technician team.
Working for Amazon as a RME technician is a highly sought-after position because it gives employees access to benefits like medical care, insurance, an excellent salary package and opportunities for career development.
To be successful, you need to have a good grasp of basic physics principles and mechanical comprehension – this knowledge will improve your chances of being taken further in the application process.
When you apply for a role, you will have to outperform many other applicants, so get started on your revision plans as soon as possible.
Revision and a solid, realistic study plan will help you perform your best in the assessment; through regular practice tests and the use of prep packs, you will get more familiar with the structure and content of the test.
---