FBI Phase 1 Test: How to Prepare and Get Top Test Scores
All products and services featured are independently selected by WikiJob. When you make a purchase through links on this page, we may earn a commission.
What is the FBI Phase 1 Test?
The FBI Phase 1 Test is the first step in becoming an employee within the FBI after submitting an initial application.
Anyone who is looking for a career within the FBI will be required to undertake this assessment.
The test is well known for being difficult and stands as the primary selection process, deciding which candidates have the potential to continue through the interview process.
Of the thousands of individuals who undertake the Phase 1 test each year, only 30% gain a passing score.
The FBI Phase 1 test features five distinct sections and will usually take around three hours to complete.
For those looking to begin their career within the FBI, it is essential to gain a high score in this multiple-choice, computer-based assessment.
Those who are selected to complete this assessment will do so at a dedicated assessment centre.
FBI Core Values
One of the main functions of the FBI Phase 1 assessment is to determine how well candidates fulfil the core values of the FBI.
By analyzing each individual's results, decisions can be made regarding whether or not they should progress to the next stage.
The values which are required for individuals looking for a career within the FBI are: collaboration, interpersonal abilities, communication, leadership, flexibility and adaptability, organizing and planning, problem solving and judgement and initiative.
Each value has several core components which contribute towards having a well-rounded knowledge and ability to execute the value effectively.
Collaboration
Collaboration is vital in the FBI as it enables individuals to work with a wide range of people from different walks of life while utilizing each person's strengths and skills.
To collaborate effectively, you should be able to build rapport, maintain composure in a variety of situations and ensure that you are acting professionally at all times.
It is also important to understand whether information should be shared and who you are sharing it with, as there will be times that communications may be sensitive.
The core components of being able to collaborate effectively are:
Liaise – The ability to establish contact and build effective relationships with a wide variety of organizations and agencies

Political awareness – An understanding of how to navigate an organization's complex social and political systems

Respect – The ability to interact with others in a way that is respectful, courteous and tactful

Information sharing – Knowing how and when to share information. The ability to identify the correct person to share information with and do so in a clear, concise manner
Interpersonal Abilities
To show good interpersonal abilities, individuals should be able to establish rapport with management, colleagues and subordinates, understand the individual needs and concerns of others, mediate with others to alleviate concerns and settle disputes when necessary.
The core components of effective interpersonal skills are:
Establish rapport – Engage in conversation in a way that puts others at ease and works to build working relationships

Understand difference – The ability to understand and value the opinions and experiences of others to consider a situation from an alternative viewpoint

Conflict management and resolution – Knowing how to sensitively manage conflict situations and mediate solutions that are fair and result in obtaining cooperation with minimum levels of disruption

Working with others – The ability to maintain connections and collaborate with others
Communication
Communication skills are essential in all areas of the FBI. The ability to communicate clearly, concisely and effectively will enable individuals to gain the best possible outcomes from their work.
Communication skills also include the ability to know how and when to communicate information with others, interpret written and verbal communications from others, and tailor your approach to communication so that it is suited to the individual or situation you are presented with.
The core components of effective communication skills are:
Be persuasive – The ability to persuade others towards your own viewpoint. This is done by providing compelling arguments and factual examples to show why your position is the best one

Listen and understand – By truly listening and understanding what others are saying, you can identify key information as well as interpret body language and non-verbal cues. By listening effectively, you will be able to respond appropriately, tailor questions to reflect the information you have been given and confirm your understanding

Speak clearly – The ability to speak clearly and concisely means that others will easily be able to understand what you are saying and what you may need from them. It also ensures that information is presented in a manner that is well-organized and easy to understand

Write clearly – In a similar way to verbal communication, your written communication should be clear and concise. By only including the most important information in a way that is easy to digest, you will be ensuring that your message is understood and can be acted on in an efficient manner
Leadership
The possession of leadership skills enables an individual to gain the respect and confidence of others in a way that can be mutually beneficial.
It also describes an individual's ability to articulate their vision, give guidance and accomplish goals as part of a team.
The core components of leaderships skills are:
Mentor – Recognizing the performance of others and providing timely, constructive feedback helps others to develop skills that will benefit everyone in the long term

Direct – If you need somebody to do something, be clear about your requirements, speak calmly and confidently to ensure that you are understood

Inspire – By ensuring that everyone understands your vision and aims, you can motivate others towards achieving a common goal

Presence – Good leaders are present within their teams. They demonstrate the skills which they hope to see in others and work constructively as a team member

Strategic direction – The ability to conceptualize and develop strategies that set direction and integrate the vision into work activities
Flexibility and Adaptability
The FBI is a fast-paced and ever-changing work environment.
The ability to adapt and react flexibly to situations that occur will enable you to work proactively and change direction when required.
The core components for flexibility and adaptability skills are:
Adapt – When an unprecedented situation occurs, you should be able to adapt your working style and processes to allow for the change of direction required to handle it.

Manage change – This indicates an ability to respond positively to changes and manage situations that occur. It can also include the ability to support organizational change and react positively when new priorities, procedures or goals are required.
Organizing and Planning
When working in an environment such as the FBI, it is important to have good organizational and planning skills
This not only enables you to work more productively but also allows you to communicate effectively with others as relevant data and information are more easily accessible.
The core components for organizing and planning skills are:
Plan – The ability to identify a goal and the steps required to achieve it

Prioritize – The ability to understand the importance of each action required to achieve a goal and use time and resources efficiently to reach the goal in the best way
Initiative
Initiative skills display a willingness to get involved with a project, show an interest in the processes involved, plan for additional workloads and the ability to adapt to problems or setbacks in a positive way.
The core components for initiative skills are:
Proactivity – take action to anticipate future needs, volunteer your time or skills, participate in activities and offer thoughts or ideas

Self-development – Continuously develop yourself and your skills to grow

Follow through – If you say that you are going to do something, then it is important to follow through with it. There may be setbacks and difficulties, but you will learn new skills and accomplish more by persisting
Problem Solving and Judgement
Problem-solving and judgement skills are identified as the ability to evaluate situations, conditions and events to identify potential risks or problems.
The ability to do this will enable you to make decisions that are based on information and data, as well as being able to find solutions to potential problems before they occur.
The core components for problem-solving and judgement skills are:
Identifying problems and opportunities – The ability to recognize and understand a problem or opportunity to find a solution or capitalize on it

Decision making – The ability to make a decision that is based on the information you have gathered

Risk management – Nothing in life is without risk, but it is important to understand what the risks of a decision could be and manage them effectively

Responsibility – If you make a decision, you also need to be responsible for its outcome. Hopefully, the outcome will be a positive one, but it is important to accept responsibility for your choices even if the outcome isn't a desirable one

Evaluation and analysis – To support conclusions and decisions, you should be able to evaluate and analyze data and other information
What Does the Test Measure?
The FBI Phase 1 assessment is designed to measure your critical thinking skills and how well they fulfil the criteria of the FBI's core values.
Because large portions of the assessment are essentially a personality test, it is harder to achieve a perfect score.
The test evaluates who you are as a person and whether you would be a good fit for the role.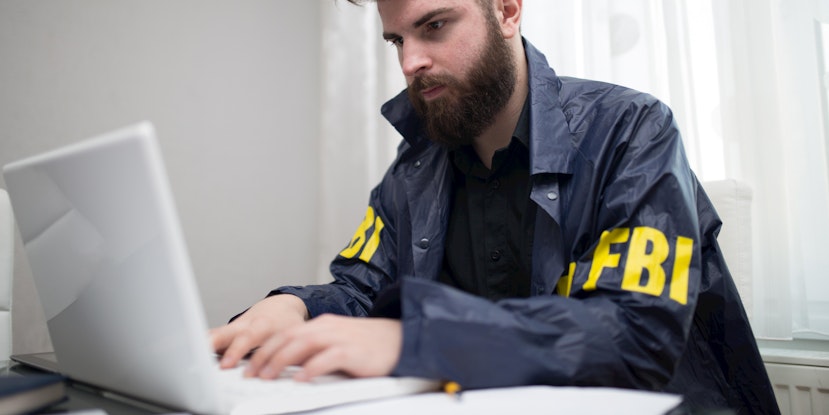 FBI Phase 1 Test: How to Prepare and Get Top Test Scores
What Is the Test Format?
The assessment is computer-based and formatted as a multiple-choice test. Candidates will be required to complete questions in five separate sections to gain their overall score.
The five sections are: logical reasoning, figural reasoning, personality assessment, preferences and interests and situational judgement.
Logic-Based Reasoning
This section of the assessment contains 11 questions that are designed to test your ability to read factual information and draw conclusions.
Each question will contain a paragraph of information which is followed by a multiple-choice question.
Using the information given in the paragraph, individuals must choose the correct answer from the five possible options.
Figural Reasoning
For this section of the assessment, candidates are asked to answer nine multiple-choice questions, which are designed to look at problem-solving and reasoning skills.
Individuals will be shown a series of shapes and patterns with a blank space.
The aim is to choose the correct option out of five possible answers to correctly finish the sequence.
Personality Assessment
The personality assessment section of the FBI Phase 1 test involves answering 100 statement questions.
There are no wrong answers in this section of the test, and it is designed to assess your personality concerning the core values of the FBI.
Candidates will be shown two statements and are asked to indicate which one they relate most to.
Even if you feel you relate to both statements, you will be unable to choose a neutral position; therefore, it is important to choose the one you feel best suits your thoughts.
Preferences and Interests
The preferences and interests section contains 37 questions that are designed to look at your personal attitudes. In a similar way to the personality assessment, there are no wrong answers, and it is important to answer honestly.
You will be shown a series of statements relating to a variety of topics.
You will then be offered five possible options for each question ranging from strongly agree to strongly disagree.
Candidates are required to indicate which one you feel relates best to them.
Situational Judgements
For the final section of the FBI Phase 1 assessment, candidates are asked to answer 19 scenario-based questions.
These are designed to evaluate how you would handle a variety of situations and problems which could occur within the workplace.
Each scenario will have five possible responses, and candidates are asked to select the one they feel is closest to their likely reaction.
IMPORTANT NOTE
Be aware that once you have completed a section and moved on from it, you will not be able to go back and change your answers.
For this reason, you will need to make sure that you are as thorough as possible in each section and manage your time effectively so that you are able to complete the entire assessment.
Top Tips for the FBI Phase 1 Test
This assessment is designed to look at your core skills and abilities, which means that there isn't really any revision you can do for it.
However, there are things that can be done to ensure that you can perform at the best of your ability and provide a comprehensive overview of your skills and personality.
Honesty Is the Best Policy
The importance of honesty really can't be emphasized enough.
This is, at its core, a personality test. As such, it is almost impossible to cheat the system.
Even if you somehow managed to lie your way through the test and into the next stage of interviews, you would soon be identified as someone who doesn't fulfil the criteria.
The assessment is designed to look at who you are as a person; therefore, it is vital to be honest when answering questions.
Read Through All Guidance Given by The FBI
Ahead of your assessment, you will be given information regarding the test and any rules that must be followed.
Make sure that you thoroughly read this information as this will help you to avoid making an unnecessary error.
For example, if the paperwork says that you must start with a specific section, make sure that you do.
You may also find that there is information regarding the time limits for each section and what to do if you are unable to answer a question.
Take Practice Tests
Although third-party tests aren't endorsed by the FBI and may not be exactly the same as the official test, they are a good way of familiarizing yourself with the formatting you are likely to encounter on the day.
They are also a good way of getting used to completing the assessment within the given time period and can give you insight as to the style of questions that you might be presented with.
Learn the Different Question Formats
You will encounter a variety of question formats throughout the assessment, although they will typically all be multiple choice.
You may find that some sections require you to choose a diagram from a selection to complete a pattern.
Other questions may ask you to select the response which you feel is most appropriate for a given situation.
Making sure that you understand all of the possible formats which you may see during the assessment means that you will be able to quickly and accurately adjust to changes.
Carefully Read the Questions
This really goes without saying, but it is vital that you carefully read each question before answering.
This ensures that you fully understand what is being asked of you and how the question needs to be answered.
Sometimes, when you are reading through test questions too quickly, you may misread something and make an error that could have been avoided.
Be Aware of the Testing Rules
There will be some restrictions associated with taking the FBI Phase 1 test, and it is important to be aware of them.
Breaking one of the rules could mean that your results are automatically disregarded, no matter how highly you scored.
For example, candidates are not allowed to discuss their tests during or after their assessment.
Applicants are required to sign a nondisclosure agreement prior to their assessment.
Actions such as talking publicly about the test or posting on a social media site would be seen as a breach of that agreement.
Be On Time
This is generally good advice for any interview or assessment, but it is especially important for the FBI Phase 1 assessment. If you arrive late for the test, you will not be allowed to participate.
You will also not be allowed to re-enter the assessment room if, for any reason, you leave during the test.
Know What Happens Next
Once you have completed your Phase 1 assessment, it is important to know what to expect next. Candidates are usually informed within one hour whether they have passed or failed the assessment.
If you are successful, then you will move on to the next stage of the interview process, which is usually a meet and greet session.
This is an opportunity for candidates to speak with an FBI Agent and ask any questions they may have. It is also a good opportunity for interviewers to find out more about you.
Final Thoughts
Although the FBI Phase 1 test isn't an easy assessment to pass, it is designed specifically to get the best possible candidates for the job.
It is designed in this way so that interviewers can be sure that the perfect candidates move forward to the next stage.
As long as you are honest in your answers and prepare as best you can, you can be sure that you will be able to perform to the best of your ability on the day.
---