Secrets of the Police Exam (A Complete Guide)
All products and services featured are independently selected by WikiJob. When you make a purchase through links on this page, we may earn a commission.
The US police exam is a compulsory entrance test that assesses each candidate to ensure they have the correct cognitive, academic, and personal skills needed to work well as a police officer.
It takes place after the initial application and pre-screening stage.
In addition to passing the entrance exam, eligibility to work as a US police officer also relies on the following:
You hold US citizenship
You are aged between 21 and 39 years old
You have a high school diploma, General Education Diploma (GED) or equivalent qualification
You hold a valid US driver's license
You are registered with the Selective Service System; or you are exempt because you have at least two years' US military service
You have passed a background investigation and a physical health check
There is no cross-country standard police exam. The exact format of the test will vary depending on which state you apply to work in.
The content of the police exam will be decided by a committee responsible for choosing an exam that fits the criteria of that state's police force.
The demand for employment with the US police force is high. The pass rate for the police exam is therefore a minimum of 70%.
However, due to the competitiveness of police applications, the higher you can score above this minimum, the better your chance of success.
What to Expect on a Police Exam
The purpose of the police exam is to assess whether you are suitable to work as a US police officer.
Your cognitive abilities will be assessed, such as math skills and ease of communicating both verbally and in writing, as will your ability to solve problems and your situational judgement.
Generally, the questions will describe a scenario that you are likely to face as a police officer.
The content of the police exam may vary between US states, but they will generally include the following sections:
Reading Comprehension
This type of question is designed to assess whether you can gather relevant information from a written source, relay that information clearly and in your own words, and draw a logical conclusion.
Writing Skills
This type of question assesses how well you can make yourself understood in writing – for instance, writing a report. Your vocabulary, grammar and spelling will be evaluated.
Math Skills
Your basic math skills will be assessed, including addition, subtraction, division and multiplication, in a series of multiple choice questions.
It is unlikely that you will be allowed to use a calculator for math questions, but you will be provided with paper for working out your answers.
Memorization and Facial Recognition
This type of question will assess how well you can recall details from what you have encountered.
Specifically, how well can you recognize a person you have previously met if their appearance has been altered? Questions will feature a visual element, such as a video or a photograph.
Problem Sensitivity
Problem sensitivity is the ability to observe a situation, conclude whether there is a problem now or a problem might occur in the future, and find a way to solve or avert that problem.
Deductive and Inductive Reasoning
These two skills are similar but not the same. Deductive reasoning is the ability to draw logical conclusions from the information you encounter.
When you use inductive reasoning, you reach a conclusion or find a pattern or common factor from a selection of items such as images, mathematical charts or written statements.
Free Sample Questions
The following sample questions should give you an idea of what you may face in the police exam.
Question 1
Two police officers investigate a burglary at Apt 3, 672 Western Avenue. They discover that the door has been forced. The tenant of the Apt 3, Miss Moore, says she was at work. She left the apartment at 8:30 a.m. and returned home at 6:00 p.m. She tells the officers that her jewellery and a digital tablet are missing.
When the officers interview the residents who live on the same floor, they receive the following witness statements:
*Mr Jarvis in Apt 1 says he has been at work all day. He saw Miss Moore leave when he went to work that morning. He saw nothing suspicious when he came home around 4:00 p.m. He does not walk past Miss Moore's apartment to reach his own.
The resident of Apt 2 is out.*
Mr and Mrs Holmes, a retired couple, live in Apt 4. They say that they heard movement in Miss Moore's apartment around noon. They did not hear the door being forced. They had been watching TV with the volume turned up loud before turning it off to have their lunch.
Miss Lane in Apt 5 says that two young men passed her in the corridor when she left to go to work just before 11:30 a.m. They were both white, possibly in their early twenties, and dressed casually. She had not seen them in the building before that day.
1. According to the passage, the two young white men seen by Miss Lane must have burgled Miss Moore's apartment. True or false?
2. According to the passage, who is known to have left the building during the day?
a) Miss Moore
b) Miss Moore and Mr Jarvis
c) Miss Moore and Miss Lane
d) Miss Moore, Mr Jarvis and Miss Lane
The correct answers are:
1. False, because the contents of the passage do not contain conclusive proof that the young men were the burglars. 2. d) All three residents stated they left the building during the day.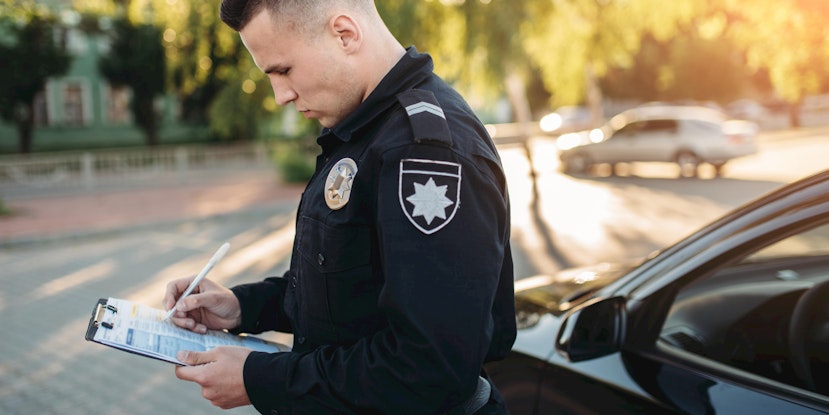 Secrets of the Police Exam (A Complete Guide)
Question 2
In the following sentence, choose the correct missing word.
The crime of burglary is committed when a person enters or remains in a building _______ with the intent to commit a crime.
a) lawfully
b) quietly
c) unlawfully
d) hidden
The correct answer is: c). Entering or remaining in a building 'unlawfully' with the intent to commit a crime is the correct definition of burglary.
Question 3
The following items are stolen from a house:
Diamond necklace – $2,435
Camera – $790
Computer – $1,250
Printer – $330
1. What is the total value of the stolen goods?
a) 4,705<br>b)4,785
c) 4,805<br>d)4,810
2. Which is the least expensive stolen item?
a) Diamond necklace
b) Camera
c) Computer
d) Printer
The correct answers are: 1c and 2d.
To find out more and access sample questions, read Cognitive Ability Testing.
How to Prepare for a Police Exam
The key to improving your performance when you take the police exam is to fully prepare yourself in the run up to test day.
Find Out About the Exam
The specifics of the police exam will vary from state to state, so it is always wise to contact the police department you wish to apply to for full details on:
The police exam they use and its content
The police exam study guide they provide
Any in-state police exam preparation sessions that you could attend
If a study guide is not available, there may still be third-party testing guides that the police department can point you to.
Practice Papers
The easiest way to build your familiarity with the type of questions you will face in the police exam is to use practice papers. Some of these are available free of charge, while others you may have to pay for.
Apart from the study guide from the relevant police department, the following websites offer practice papers and sample questions:
Assess Your Strengths and Weaknesses
Use your practice paper results to assess which type of questions you excel at and which need more work.
Once you know where your strengths and weaknesses lie, you can spend more time on improving your weaker areas.
Timed Practice
Reduce test-day nerves by practicing under exam time limit constraints. This will not only build your confidence but also:
Demonstrate how long it might take to answer each type of question
Improve your ability to work at speed
Allow you to put together a plan for the exam so you know how long to spend on each section
Create a Study Plan
Having a study plan in place removes any excuses that might prevent you from setting aside time to prepare for the police exam.
Make an appointment to study in the same way that you would make an appointment to go to the dentist or doctor. Mark it in your diary or on the calendar on your phone and keep to it.
Your study plan might include slots of time to:
Take practice papers
Research the entrance exam and the job
Play memory games
Solve math problems
Research relevant US legal policy
Find Out What to Expect on the Day
Beyond using practice papers and timed practice to relieve exam-tension, knowing what to expect on the day can prove helpful too.
For example:
On the day, is entry to the police exam on a first-come first-served basis?
Where and when will the police exam take place and how will you travel there?
What ID and other documents must you provide on the day of the exam?
What can you take into the exam venue and what is banned?
How should you make yourself known when you arrive at the exam venue?
What happens once the exam is finished? Can you leave immediately? Can you return to the venue?
How and when will you receive your police exam results?
Top Tips for Test Day
On the day of the test there are still more ways you can help yourself to perform well. Here are some top tips:
Look After Yourself
Make sure you have the opportunity to get at least seven hours' sleep the night before the police exam.
Eat enough that you are not hungry during the exam, but that, equally, you are not bloated.
Drink enough water to stay hydrated. Avoid too much caffeine and sugar so that you do not experience the highs and the resulting lows.
Arrive in Good Time and Be Prepared
Make sure that you arrive in good time for the exam and equipped with everything you need.
The exam may be held on a first-come first-served basis, meaning that once the number of seats has been filled, anyone else will be turned away.
Make sure you do not bring items with you that are not allowed in the exam venue.
Read All the Questions Thoroughly
Make sure you fully understand each question to avoid making unnecessary mistakes. Your practice sessions should have improved your ability to quickly identify the key elements of a question.
Make sure you know how to answer each question – for instance, the least likely answer instead of the most likely.
Keep an Eye on the Time
Your timed practice session will have demonstrated how long you can effectively spend on each section of the exam. Keep an eye on the time to make sure you can finish the whole test.
Answer Every Question
Make sure you answer every question in the police exam. If you are unsure how to answer any question, give it your best guess. You may be correct.
Final Thoughts
Working as a police officer in the US is a popular career option.
Each year, applications outstrip the number of available vacancies. It is not surprising, therefore, that the police exam is one of the more difficult career entrance tests.
Give yourself the best chance possible of success by fully researching and preparing for the exam well in advance of the day.
---